Locksmith Services Humble
Call Us Now 281-819-7054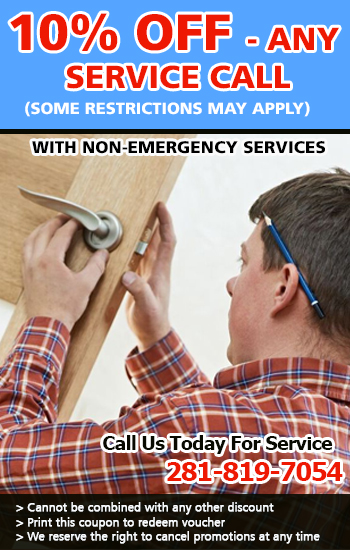 Locksmith Humble is known throughout Texas as the local lock experts of choice. Our areas of expertise include lockout services and lock repair, rekey and replacement for residential, commercial and automotive applications.
Your Best Bet in Lockout Situations
Locked out? It can happen to anyone. What you definitely don't want to do is take chances and risk making a maddening situation worse. Give us a call and then sit back and relax while our skilled locksmith will be there to get you out of the jam. Be it your home, business or vehicle, we can get you in there quickly and safely. Please do not break a window, call Locksmith Humble anytime. Our lockout service is available 24-7.
Locksmith Humble Offers Full Range of Lock Services
We can install, replace, repair and rekey locks of any type, brand, and model. In addition to and because of our expertise, you can trust our professional advice and recommendation on how best to proceed. Some situations may need just a simple repair, others may call for rekeying instead of replacing the whole lock, and if replacement is the way to go, we can discuss and recommend the best options.
Trusted Name in Commercial Locksmithing
Commercial lock applications for offices and businesses require a whole other level of expertise. Our affordable locksmith service is a trusted name in commercial locksmithing, which makes it doubly budget-friendly since, to preserve your business profits, you would want a locksmith that can do it right in a short period of time.
Top-Notch Automotive Ignition Key Services
Getting locked out of a car or having an ignition key problem usually means you're also stranded somewhere. This is when our speedy and expert service really shines. We can help you open the door, replace the ignition key, or repair the ignition of any make and model of vehicle. This would include replacing and programming your vehicle's smart key. Our affordable locksmith can assist you better and more economically than the car dealer.
Professional Safe Installation and Opening
A serious safe is a heavy and unwieldy safe. For the ultimate security, it would also have to be secured to the floor or built into a wall. Give us a call and our professionals will be over and perform all the heavy lifting for you. We have extensive experience working with all types of safes. If you have misplaced the key or forgot the combination to a safe, we can help!
Give Locksmith Humble a call any time for all your locksmith needs. You will love our service, and that's a promise.
Humble Manuals download - Click on the image to download